We are proud of our wonderful staff and their diverse backgrounds. In turn, they are committed to providing you with the best level of care and customer service. Learn more about the great people in our practice:
Lisa Kwieczinski
Lisa Kwieczinski is our Manager. She has a Degree in Opticianry from Ferris State University and has worked as an optician and manager for over 18 years.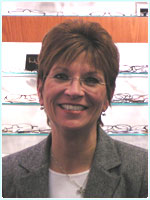 Lisa Bussiere
Lisa Bussiere is an Optician with over 13 years of experience in the Optical field, during which time she has worked in all areas of the Optical industry. Camping, fishing, boating and spending time with her family are her favorite pastimes.